Since General Motors installed the electronic Diesel Ignition Fuel Pump, appear more and more the same Problems:
- the Engine has Blackouts
- the Engine Speed (RPM) sways
- the Engine goes of on the road or starts bad or not
- you feel a low power of your Motorhome
- and your Engine has a increased Smoke Emission if the Engine starts and during Vehicle Operation a the road

The Control Box of the Fuel Ignition Pump is that small black box mounted on the side of your injection pump. It is a signal amplifier that powers the fuel solenoid. It contains 2-500 watt transistors which create a lot of heat. The factory mistakenly mounted this Control Box on the side of an already hot injection pump and in the engine valley below the intake manifold where temperatures skyrocket.
As everyone knows, electronics do not like heat and they will fail prematurely. Symptoms of failure are stalling, hard starting, surging, poor fuel mileage, erratic idle and finally no-start. When they go it usually will not give any codes with the SES (Service Engine Soon) light. This American Made Cooler Kit, relocates the Pump Control Box to a cooler area of the engine compartment, on a massive oversized aluminium heat sink. A proven design. The design has some distinct advantages over all the competition's.
New upgraded Control Box with large
Aluminium-Cooler for Ignition-Fuelpump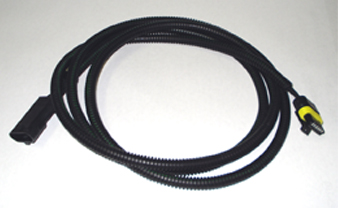 Extension Wire Harness, about 2,0 meters
This Upgrade Kit includes everything needed including a new Advanced technology Pump Control Box, Aluminium Cooler as pictured, Extension Harness, Calibration Resistor, No drilling or cable splicing. A truely simple Plug-and-play installation. Professionally engineered and manufactured. Only basic hand tools required. Approximately a 20 minute installation for mount this new Pump Control Box outside of the Engine Compartment.
Many Dealers are changing the complete Fuel Ignition Pump which will cost much more. With this Upgrade Kit you can save at the most cases a lot of money
Upgrade-Kit contains:
- New upgraded Fuel Ignition Pump Control Box ( Black-Box )
- large Aluminium Cooler
- Extension Wire Harness, about 2,0 meters