Connects directly to the 3" Waste Water outlet
Fresh Water rinse capabilities
Ability to dump longer distances
Easy clean up and storage
Rugged portable storage case
Ability to drain holding tanks at home
Heavy duty 12 Volt Motor
Eliminates 3" (75 mm) sewer hose to 1" (25 mm)
Remote handheld On/Off Switch with 2 m wire harness
Rugged portable storage case
Run dry protection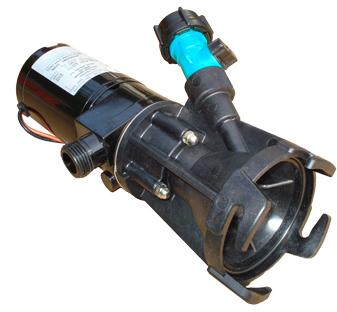 No more waiting at the dump station or paying fees to dump or finding an open dump station. Simply connect the Portable Waste Pump, run a small diameter hose to your homes sewer clean out and press a button. Problem solved.
The Portable Waste Pump is the ideal solution for emptying holding tanks on recreational vehicles and avoiding dump stations. The macerator section grinds waste down to a particle size of 3,0 mm maximum so it can easily be pumped through 1" (25mm) Hose. The pump section is self - priming, permitting the unit to be mounted above the tank in a convenient location.
The Portable Waste Pump is a breeze to setup - just connect it to your sewer dump outlet (exactly the same way you would hook up your sewer hose), plug in the 12 Volt power souce, hook up the 1" (25 mm) dump hose and press the remote control button. This amazing device chops up the waste into 3,0 mm particles and pumps it up to 30-50 meters away, even uphill! Tanks are emptied within minutes and there is a fresh water attachment to flush the tanks after dumping. Perfect !
Everything fits into the handy carrying case and stows away neatly. If you are boondocking at a remote location with no facilities, the Portable Waste Pump will macerate and pump the content up into a portable holding tank in your tow vehicle. No lifting of a heavy tank, no muss, no fuss. Empty holding tanks through a small size hose like a garden hose into a portable tank, toilet, sewer clean-out port or septic tank.
The Portable macerator pump connects directly to the 3" RV waste outlet. Lets you dump over longer distances and uphill. Flushing inlet-valve lets you back-flush tanks. Hand-held remote On/Off switch with 2 meter wire harness. 12-Volt pump features run-dry protection. Easy clean-up and storage in plastic carry case.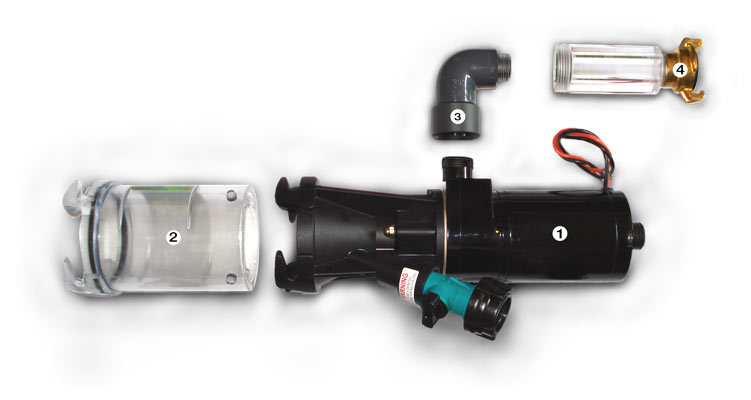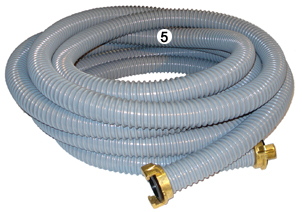 -

1

Portable Waste Mecerator Pump incl. Hand-held Remote, Install Kit and Plastic Carry Case. Item-No. 60-510
-

2

3" Extension/Adapter, length approx. 12 cm, 4-Pin Connection. Item-No. 60-560
-

3

90° Elbow with inner and outer thread. Item-No. 60-550
-

4

Adapter US-Thread to EU-Thread and Flow Indicator Glass ( recommended ). Item-No. 60-540
-

5

Waste Water Dump Hose 1" / 25mm, approx. 5,50 m long with 2 x Brass Hose-Connectors. Item-No. 60-520
-

5

Waste Water Dump Hose 1" / 25mm, approx. 13,0 m long with 2 x Brass Hose-Connectors. Item-No. 60-530
Leistung: ca. 45 l/min.
Motor: 12 Volt DC, Permanent Magnet Type, Fully Enclosed
Pessure Head: approx. 6,0 m
Inlet: 3" / 76,0 mm, 4-Pin Connection ( Valtera )
Outlet: 1" / 25,0 mm, Waste Water Dump Hose
| | | | | | |
| --- | --- | --- | --- | --- | --- |
| Length | Width | High | V | A | Weight |
| ca. 280 mm | ca. 110 mm | ca. 90 mm | 12 | 16 | ca. 3,2 kg |